‍PRD Flexitank is a new type of chemical container capable of storing and transporting
various non-dangerous liquid goods.Each PRD Flexitank can be placed in a 20-foot container with
a volume of 16-24 cubic meters.The largest specification can store and transport 24000L liquids. It
is ideally used for container transportation and is suitable for trains, automobiles and ships.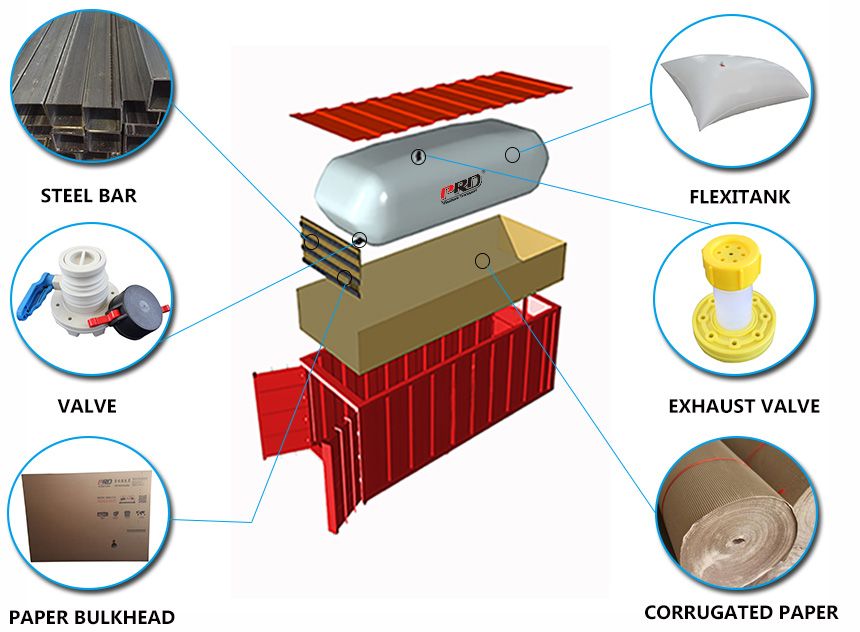 The materials and processes of each part of the PRD Flexitank have been verified by the ATR TTCI Center and are in compliance with COA PAS1008.:2015 international standard for liquid bag industry, under the impact of high-intensity dynamic operation of COA railway experiment The PRD Flexitank has no change, no displacement, no leakage, no displacement of the valve and door stop, no contact with the door, and no breakage. The variable of the container wall conforms to the COA standard.
The outer layer of the PRD Flexitank is a cylindrical PP with a special high-latitude thread.No need for stitching on both sides, safer than sheet PP, add high weft yarns, greater tensile strength,Different from the common PP in the market, the PP used by our company is made of pure new material.
The PRD Flexitank valve is a high-steel nanometer polypropylene one-piece valve, which has greater strength than ordinary polypropylene or reinforced polypropylene.Resistance to high and low temperature and corrosion resistance, no cracking under strong collision, strong sealing.Valve with locking design, special anti-suction hole design at the bottom of the valve.The unloading is cleaner and the liquid residue is less, ensuring the safe use of the valve.
PRD Flexitank exhaust valve is set for automatic exhaust, 0.15m--2m exhaust valve,After the liquid bag pressure exceeds a certain limit, it will automatically release pressure, different calibers,It is suitable for transporting different products, ensuring the safe operation of the fluid bag in use at every moment.
PRD Flexitank unique heat sealing technology, after years of research and experience, has a unique 360° heat sealing technology,High heat seal strength, good airtightness, safety and stability, each bag has added multiple fuse strips, with automatic welding equipment,The welding time is accurate to three seconds after the decimal point, so that the bearing capacity and anti-swaying force are greatly enhanced.